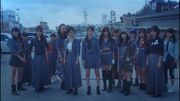 Team Dontaku (チームどんたく, Team Dontaku?) is the strongest team in Shekarashika Joshishogyo, similar to Majisuka Jyogakuen's Rappapa and coincidentally is also known as Shekarashika's Brassband Club (吹奏楽部, Suisougaku-Bu?). The team's aces are the Sakura-Katsuzetsu Duo. When they went to a schooltrip to Kisarazu, they each made groups.
Members
Club Advisor
President
Vice-Leaders
Other Members
Group 1 (Sightseeing/Date Group)
Group 2 (Shopping Group)
Group 3 (Play Group)
Ad blocker interference detected!
Wikia is a free-to-use site that makes money from advertising. We have a modified experience for viewers using ad blockers

Wikia is not accessible if you've made further modifications. Remove the custom ad blocker rule(s) and the page will load as expected.