| | | |
| --- | --- | --- |
| | This article is about a/an school from the Majisuka Gakuen Musical. | |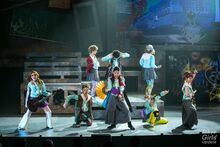 Mibubitchi Koko[1] (壬生尾土高校, みぶびっち ここ?, Mibubitchi High School) is a Yankee School in Kyoto that rivals Majijo in status. It also has a hierarchy similar to Majijo's Rappapa: Dendeke. Otabe and Gekikara encountered them in the Majisuka Gakuen Musical.
As it's name implies, the school is probably situated near Mibu Temple, which is also presumably the temple where Otabe and the rest of the Majijo students resided during their schooltrip.
Students
Reference
↑

[2015 July 18] AKB48 Show! Episode 80
Ad blocker interference detected!
Wikia is a free-to-use site that makes money from advertising. We have a modified experience for viewers using ad blockers

Wikia is not accessible if you've made further modifications. Remove the custom ad blocker rule(s) and the page will load as expected.