This is a wiki for the Majisuka Gakuen series. It is currently under construction.
This is a wiki for the Majisuka Gakuen series. It is currently under construction.
Welcome to the Majisuka Gakuen Wiki
If you would like to contribute, please see our list of pages that need work here.
RECENT PRODUCTION

HULU November 25, 2015
NTV November 29, 2015
About the Majisuka Gakuen Series
Majisuka Gakuen Series (マジすか学園 シリーズ,, Majisuka Academy Series?) is a school drama series featuring the members of AKB48 Group. The series focuses on the lives of "Yankee" (ヤンキー, "Yankee"?) girls during their senior high school years. It is the first school series to have the first three seasons be broadcasted from TV Tokyo, and the fourth and fifth to be broadcasted from Nihon TV.
Season 1: Majisuka Gakuen
Season 1 focuses on the life of Maeda Atsuko, a 2nd Year Yankee Girl who wanted to become a nurse after her bestfriend died trying to keep her away from a fight.
The first season ran on TV Tokyo from January 8, 2010 to March 2, 2010, garnering criticism about the amount of blood and violence featured in the show [1],[2].
Season 2: Majisuka Gakuen 2
Season 2 continues on the story of the characters from the previous season, with some introduction to additional characters.
Majisuka Gakuen 2 ran from April 15, 2011 to July 1, 2011.
Season 3: Majisuka Gakuen 3
The third installment of the drama had the same title as the previous seasons, but a completely different plot and new cast of characters. It is set on a Prison-like School for Female High School Yankees.
It ran from July 13, 2012 to October 5, 2012, and was the first season to feature a member of HKT48.
Season 4: Majisuka Gakuen 4
This installment of the drama continues on the same setting as the first two seasons, but has a new generation of cast and characters. It is the first season to have members of NMB48 in the main cast.
Majisuka Gakuen 4 started airing on January 19, 2015 on NTV, and on Hulu a week earlier.
Stage: Majisuka Gakuen (Kyoto Schooltrip)
A musical version based on the series was released on May 14-19, 2015 at the AiiA Theater in Tokyo. It tells of the story of Gekikara and Otabe leading Majijo's first school trip to Kyoto. It served as the connection between Seasons 2, 3 and 4.
Season 5: Majisuka Gakuen 5
This installment of the drama has the same setting as the fourth season, and is a continuation of it's preceding season. The story of Majisuka Gakuen 5 is more original and expansive than the other installments of the series. It is not only about school-age delinquents, but also involves Yakuza and the police in the storyline.
NTV aired it's first three episodes (called "volumes") on August 24th, 2015, with the rest of it only viewable on Hulu.
SP: Majisuka Gakuen 0 (Kisarazu Schooltrip)
A 1-part movie which shows the story of Sakura's and Katsuzetsu's previous school year before they transferred to Majisuka Jyogakuen. It also shows the story of what happened to Wota/Scandal during her 2-year transfer to Shekarashika Joshishogyo in Fukuoka.
A 30-min version of it was aired in NTV on November 28, 2015, while a 1-hour version is available on Hulu and the Shekarashika! Type-A DVD as a Bonus.
Gaiden Series
Gaiden (外伝, Side Stories?) are short stories/skits that features some of the characters from Seasons 4 & 5. While Season 4's Gaiden shows the possibility that these were events after the season's main event, Season 5's Gaiden only shows some short skits/manzai similar to NMB48's Geinin! Series.
Trivia
Video Gallery
References
The Community Needs Your Help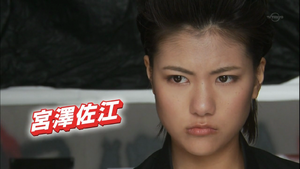 As suggested by a viewer from Gakuran's page
How should we address Gakuran?