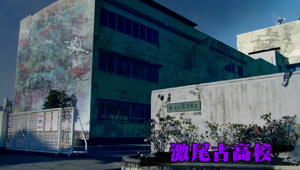 Gekioko Koko (激尾古高校, Gekioko High School?) is a yankee school from Majisuka Gakuen 4. It is the rival school of Majisuka Jyogakuen, and is led by the Kango-ka (看護科, Nursing Department?).
To distinguish their year level, they have star badges on their school uniforms, sometimes around the collar. The number of stars denote what level they are in.
Students
Third Year
Second Year
Tsurishi (Suda Akari SKE48)
Zakoboss (Matsumura Kaori SKE48)
Shirogiku (Shiroma Miru NMB48)
Kurobara (Yagura Fuuko NMB48/AKB48)
First Year
Demekin (Jonishi Kei NMB48)
Bukkomi (Kondo Rina NMB48)
Diva (Furuhata Nao NMB48/AKB48)
170 (Tanaka Natsumi HKT48/SKE48)
Siberia (Murashige Anna HKT48/NMB48)
Kimotama - (Yabushita Shu NMB48)
Ibukuro - (Kadowaki Kanako NMB48)
Ijirii - (Ijiri Anna NMB48)
Other Students
Jo (Jo Eriko NMB48)
Tekitou (Murase Sae NMB48)
Otenki (Fuchigami Mai HKT48)
Hamster (Kumazawa Serina HKT48)
Handsome (Tanigawa Airi NMB48)
Michelle (Michelle Christo Kusnadi JKT48)
Trivia
Gekioko served as the main rival of Majisuka Jyogakuen, and was shown that they had defeated Majijo's previous rival, Yabakune Joshishogo Koko. After Sakura defeats Antonio, one of Yabakune's leader candidate, Gekkou, declared her intention to fight Majijo, making Yabakune their rival once more.
Note
↑

KY has only one star, but is listed as a 2nd Year student in the official website.
Ad blocker interference detected!
Wikia is a free-to-use site that makes money from advertising. We have a modified experience for viewers using ad blockers

Wikia is not accessible if you've made further modifications. Remove the custom ad blocker rule(s) and the page will load as expected.