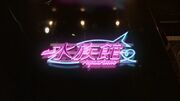 Cabaret Club Aquarium (キャバクラ水族館, Kabakura Suizokukan?) is a Cabaret Club opened by Miyawaki Sakura to raise funds for Majisuka Jyogakuen after the school's funding company went bankrupt.
Members
Primary Staff
Cabaret Club Girls
Regular Girls
Guest Help Girls
Unnamed Club Help Girls
Miyazaki Miho
Mogi Shinobu
Omori Miyu
Sasaki Yukari
Secret Ally
Scandal - an idol with a dark past, rescued Jisedai from Dandy Magnum.
Salt - a detective, Majijo's former Rappapa president.
Rival/Ally